Double feeder with individual distribution
THE CONCEPT
The double feeder with individual distribution is a mixing system of two feeds with a different composition (one nutritionally rich and one to complete), dosage and distribution, coupled with identification and weighing systems.
This type of distribution enables to control the feed distribution and the feeding behaviour. If there is a change in the animal's feeding behaviour, the breeder is informed by an alert on his smartphone or on another IT device.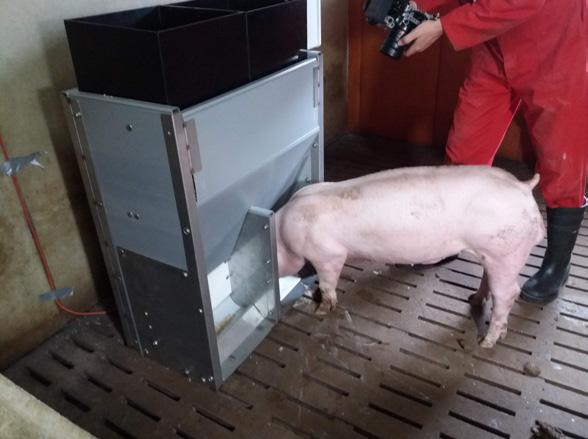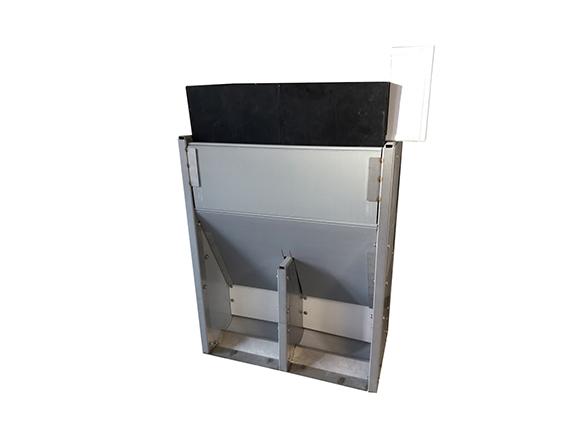 USE OF THIS DOUBLE FEEDER
The two feeds are stored in the two separated hoppers.

The animal appears in front of the machine and is identified by a unique number thanks to RFID technology.
The system consults a database giving information on the feeding mix and on the dose that has to be provided.
The feeds that have to be provided are dosed and composed within the equipment.

The feeding mix adapted to the animal is made.

The feed is distributed in the trough in front of the detected animal.

The feed is then presented to the animal as long as it is identified and not rationed.
MAIN TECHNICAL CHARACTERISTICS
The equipment has a length about 80cm, a depth of 40cm and a height of 1.2m.

The storage of food is assured by two hoppers of a capacity of 30kg of dry food.
Auge en matériau de type PVC.

Troughs scaled at a low price, in a PVC type material.

Assures half of the daily needs for a pen of 20 animals.

Option : add fences so the rationed animal can eat calmly.
ADVANTAGES OF INDIVIDUAL DISTRIBUTION
With a weighing station in the pen: measure of the weight and identification of the animal's feeding behaviour → individual precision feeding system.

The optimised equipment for livestock feed can adapt every day the nutritional needs of the animal by dosing the composition of the feed mix.

Automatized, it helps to ease the everyday tasks of the breeder.